HOW TO SEE IN THE DARK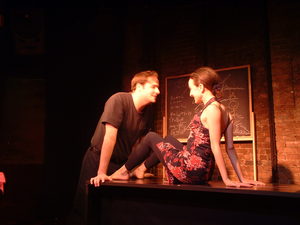 Premiered Winter 2003, during a blizzard.  Theodora Fogarty and M. Andrew Curry came all the way from Seattle to sit with me in the pit band. - sf
Starring Steve Deighan*, Catherine Rogers, Matthew Porter* (Members AEA).  Musicians M. Andrew Curry, Theodora Fogarty, Sharon Fogarty, Bobbi Owens and Renée Torrière.
REVIEW
by Martin Denton • December 3, 2003
The frontal lobe of the brain, responsible for the mostly highly cognitive functions in humans, takes frequent "naps" to restore itself: call them day dreams. Imagine that you could eavesdrop on somebody's frontal lobe's naps; imagine that you did while that somebody—a college professor named Stanton Lake—was himself delivering a lecture about the anatomy of the human brain.
Now imagine that somebody else—the prodigiously talented and prolific multidisciplinary theatre artist Sharon Fogarty—put that eavesdropping on stage, in a genre-defying play-dance theatre-musical format; and imagine that it worked. Actually, no need to imagine that: Fogarty's latest creation, How to See in the Dark, is just as I've described it. And it works, ineffably and beautifully.
After a wordless prologue, choreographed to a mostly sung overture of found and original song fragments—sagely setting the mood and establishing the ground rules for what's to come—Professor Lake addresses the audience. He's going to talk, he says, about the limbic system and its effects on emotive condition and instinctual patterning and psycho-social parietal awareness. Helpfully, he writes all of this in an entirely illegible scrawl on the blackboard; and then, beginning with the brain stem—the medulla oblongata, where movement detection and essential self-preservation takes place—he takes us through a number of topics: the frontal lobe, the biology of shock, the parietal lobe, the phenomenon of "perfect pitch," audio hallucinations, and mating patterns, concluding with methods of healing a wounded or damaged limbic system.
It's fascinating, but the science is just this show's surface. How to See in the Dark is not like most theatre: what Fogarty does here is to juxtapose with this brief but detailed academic fare exemplars of what's being discussed. More astonishingly, she manages to tell a compelling and profound story at the same time. Stanton was in love with a woman, Sheryl, whose previous lover abused her violently. Stanton goes so far as to kill the ex-boyfriend when he is let out of prison; but Sheryl's system has taken all that it can, and she dies. As Stanton explains the ways that a broken limbic system can be mended—through death, or through forgiveness and faith—he contemplates Sheryl's fate and his own. Something like regeneration and healing happens for Stanton by play's end.
Fogarty delivers the narrative utterly a-traditionally, using all of the theatre elements at her command to reveal the distractions inside her protagonist's brain. We're always aware that the episodes we're witnessing are somehow ethereal and ephemeral: did Stanton really murder Sheryl's abuser, or is the scene just a projection? The dream state is simulated here more faithfully than I can ever recall having seen done on stage; there is, for example, a dazzling vignette in which Stanton recalls a blissful Christmas shopping spree with Sheryl in which she morphs seamlessly into Red Riding Hood, exactly the way she would if we were asleep and in the middle of a fanciful reverie. Characters move naturally and also dance, while a live "soundtrack" superimposes Irving Berlin's "Happy Holidays" onto Cole Porter's "I've Got You Under My Skin," with Hugh Martin's "Have Yourself a Merry Little Christmas" drifting around the edges. Gorgeous, evocative, and moving.
Fogarty's collaborators are entirely simpatico with her off-the-beaten-track style of making terrific theatre. Steve Deighan, who has the leading role of Professor Stanton Lake, is superb, conveying the emotions of his character at and below the surface more or less simultaneously. The other performers are Catherine Rogers (Sheryl) and Matthew Porter (her ex-lover and everyone else) and they execute Fogarty's evocative vocabulary of words, sounds, and movement expertly. Lighting designer Charles Moran provides subtle but effective visual cues to help us navigate between reality and the subconscious. Fogarty (on guitar and flute) is joined by four talented musicians—M. Andrew Curry, Theodora Fogarty, Bobbi Owens, and Renée Torrière—to create the live music for the show, stunning harmonies that provide aural counterpoint to the rest of the proceedings.
How to See in the Dark lasts less than an hour; and the economics of off-off-Broadway theatre dictate that it will run just one week (read our nytheatre voices interview with Fogarty to find out more about that situation). It's amazing how much can be accomplished in just a little bit of time.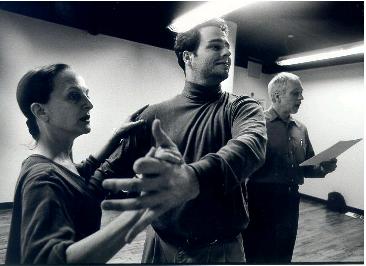 Thanks for donating!