P U T N A M 

PUTNAM: (Sings) I am just a boy, just a naked boy, I am just a boy, boy. E +m3, B7, E+m3
Little hairy man without a tan, tan making lots of yin yang E +m3, F#7, B7
I look in the mirror see a puppet of who I used to be A… A7
Waving at the big crowd trying hard to remember me E +m3, B7, E+m3

Skinny little kid in the mid-mid-middle of a war war
Little bit o'talent goes a long long way if you're a bore bore
I can write a song, sing-along song it doesn't take long long
Getting lots of praise in the way ways Jesus would adore, dore

Chorus sings majestically behind him:

Chorus 7: Won't you sign my skin G, A, E
Chorus 1: Oh, how I long to be him G, A, E
Chorus ALL: We adore you Mr. Putnam G, A, E, F#
Touch us, won't you touch us, won't you B, F#, B, F# (4x)
Tell us just how much us being
Famous would be famous won't you
Teach us, won't you claim us Mr.
Putnam, Mr. Putnam, Mr. Putnam, (Mr. Putnam)… (end on B7)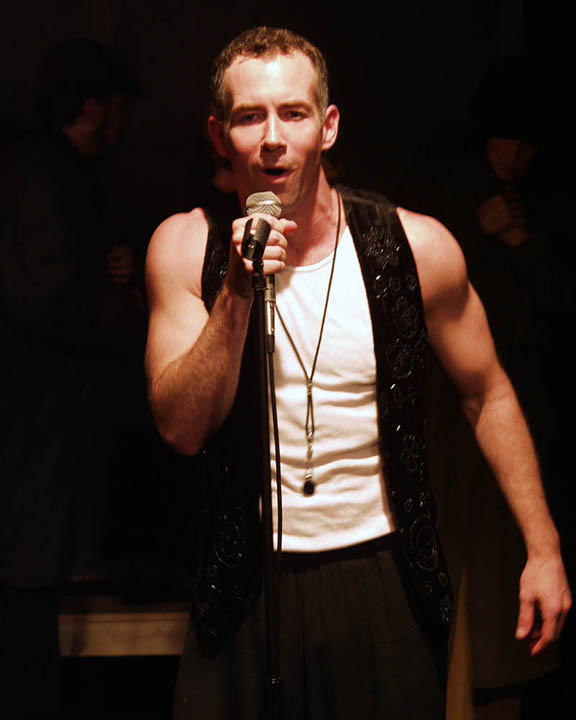 Photos by Hector Duran featuring Jason Alan Griffin in the title ROLE, Bobbi Owens as Billie Holiday and Jason Grossman as Elvis Presley.
PUTNAM 
Synopsis: Dysfunctionally famous William Putnam finds a home among celebrities thought to have died young. Featured are underground versions of Marilyn Monroe, Elvis Presley, John Lennon, Janis Joplin, Billie Holiday and Amelia Earhart who hold onto no relic of their famous pasts except for their middle names. Music and impersonations play homage to the "missing" celebrities. 
Al Quagliata Bobbi Owens, Jason Alan Griffin*, Jason Grossman, Heather De Sisto/Jenni Frost*, Karen Christie-Ward, Linda Kobylinski and Sharon Fogarty*.  Above left, Jason Alan Griffin as Putnam, right, Bobbi Owens as Billie Holiday.  (*Members AEA).
nytheatre.com review
by Martin Denton • May 31, 2002
The idea behind Putnam is pretty neat: a Very Famous Celebrity—a star, in vague but obvious ways, of movies, music, and TV—finds that he is no longer able to function as a human being. He attempts suicide and lands in a hospital. One day, he is awakened from his coma by a strange woman with a thing for airplanes who quite possibly is Amelia Earhart. Soon, other presumably dead celebrities—including Marilyn Monroe, Elvis Presley, Billie Holliday, John Lennon, and Janis Joplin—turn up, bringing with them an invitation for Putnam to join them at the Diversified Talent Agency, an organization that arranges for the deaths of famous people so that they can live in peace, pursuing the artistic endeavors that they are suited for. 
What's cool about this idea is, (a), it prompts some provocative (though necessarily inconclusive) musing about the nature of fame and the responsibility of artists who become famous; and, (b), it offers the playwright/director, Sharon Fogarty, and her talented company of actors, priceless opportunities for savvy pastiche of these legendary figures, here miraculously returned to life and brought together. Putnam emerges as a charming fantasia on what we think we know and would like to imagine about these iconic folk. And it's also a very satisfying fairy tale about the importance of faith and the power of love. It's delightfully entertaining.

Fogarty calls her work an "anti-musical" but Putnam feels to me very much like a gentle folk-rock musical play in the style of, say, Godspell. The book is episodic and loose (and, to be frank, a bit muddy in the middle); the score consists of comic homages to the celebrities depicted and more straightforward ballads that address the fundamental issues raised by the story. Some of the songs—especially Putnam's own signature tune (which opens and closes the show) and a rousing choral anthem about the importance of celebrity—are really quite lovely. (Unfortunately, no titles are provided in the program.)

Each dead celebrity gets at least one moment in the spotlight. Fogarty is delicious as the Monroe character, here called "Jean" (at Diversified Talent Agency, everybody is known by the middle name they were born with). Jason Grossman does a mean Presley impression as "Aaron," and Karen Christie Ward is blithely flighty (pun intended) as "Mary" (Amelia Earhart). Bobbi Owens ("Fagan"; Billie Holliday), Al Quagliata ("Winston"; John Lennon), and Linda Kobylinksi ("Lyn"; Janis Jolpin) are less precise in their characterizations but nevertheless effective. Quagliata gets terrific comic mileage, though, from a couple of cameos as a Woody Allen-like director, caught on TV mourning Putnam's apparent death. Jenni Frost is appropriately nurturing and human as the young nurse, Sadie, with whom Putnam falls in love.

Jason Alan Griffin is splendid in the title role, anchoring this fanciful journey into a place that may be the Great Beyond or may, in fact, be Ithaca, New York. Putnam is, indeed, that kind of show. The press release promises that Putnam will be back in the fall; with some tightening and strengthening of focus, it should prove entirely worthy of an extended engagement. We'll keep our eyes out for it.